For 128 years, Gibson – the iconic American brand of instruments – has shaped sound across generations and genres and become the most relevant, most played and most loved guitar brand in the world. Gibson is proud to announce that it has partnered with Authentic Brands Group (ABG) and Elvis Presley Enterprises to create two stunning acoustics: the Gibson Elvis™ Dove and Gibson Elvis™ SJ-200, both in ebony. The Elvis Dove and SJ-200 are handcrafted by the expert luthiers and craftsmen of the Gibson Acoustic Custom Shop in Bozeman, Montana and are available today worldwide from authorized Gibson dealers and at www.gibson. com.
Watch the clip below which was shot on location at Graceland, Elvis' family home in Memphis, TN. The video includes footage of Elvis' favorite pink Cadillac, footage inside his plane, "The Lisa Marie", and a close-up of the white embellished jumpsuit he wore during his special Aloha From concert. Hawaii in 1973; watch and share the video: HERE.
Elvis played several Gibson acoustic and electric guitars throughout his career. The new Gibson Elvis Dove in Ebony is based on a custom 1969 Gibson Dove that was gifted to the King of Rock 'n' Roll by his father, Vernon Presley, whom Elvis played regularly in concert from 1971 to 1975, famed for the legend of Elvis. Aloha From Hawaii satellite television concert in 1973. In 1975, while mid-performance at a concert in Asheville, North Carolina, Elvis gifted the Gibson Dove to an astonished audience member.
Elvis often used Gibson SJ-200 acoustic guitars, aka "The King of Flat Tops". Gibson has now created Elvis' favorite SJ-200 in ebony which is based on a guitar that was gifted to Elvis during a recording session at RCA Studio B in Nashville, TN in the mid-1960s. often used this Gibson SJ-200 acoustic guitar for many high profile live performances and in 1976 Elvis gave it to his close friend and Graceland assistant Marty Lacker.
"The sound, look and feel of Gibson instruments have notably played an important role in American musical history and there is no better example of this truth than seeing and hearing these two legendary Gibson acoustic models in the hands of 'The King of Rock and Roll.'" –Robi Johns, Senior Director of Product Development, Gibson Acoustic
The new Gibson Elvis Dove Ebony features a solid Sitka spruce top, solid maple back and sides, and a mahogany neck capped with an Indian rosewood fingerboard. The new Dove features modern LR Baggs VTC electronics with an under-saddle piezo pickup and rosette-mounted volume and tone controls, making it ready for the stage, right out of the box. The new Gibson Elvis SJ-200 features maple back, sides and neck, and a sitka spruce top. The guitar features all of the eye-catching touches of the SJ-200, including a graduated mother-of-pearl crown and parallelogram inlays, signature Mustache bridge and Indian rosewood fingerboard, and is fitted with an LR Baggs VTC under-saddle pickup. For an extra personalized Elvis touch, both guitars come with a Kenpo Karate decal included in the hard case.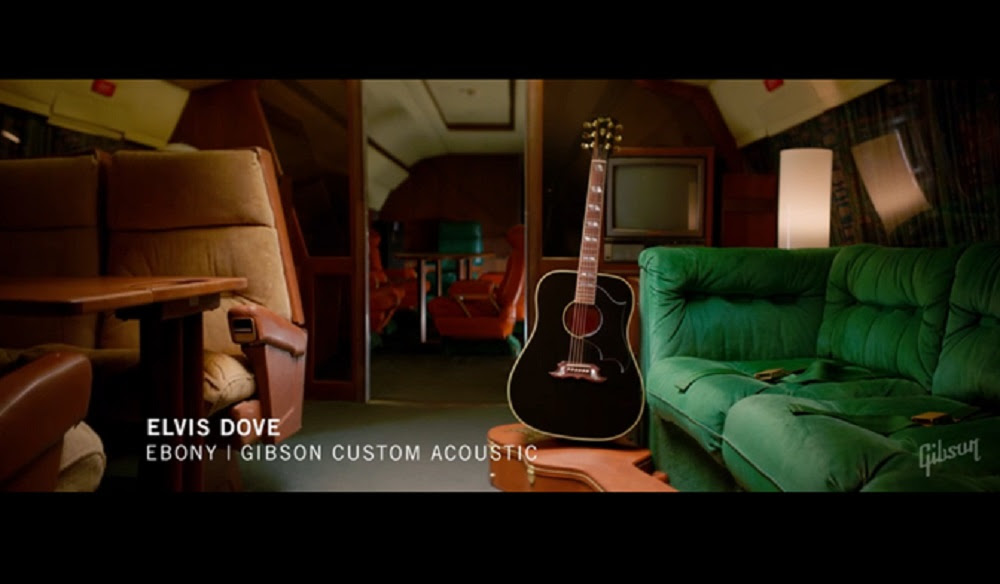 For a detailed account of Elvis' life story, visit: https://www.graceland.com/early-childhood and https://www.graceland.com/1954-1957. For a comprehensive look at Elvis' life, plan a trip to Memphis for a visit to Graceland, https://www.graceland.com/elvis45.