Electric guitars are more versatile than acoustic guitars because they can produce a wider range of sound through the use of effects. It can also be a great choice to select the best electric guitar for beginners. You can pursue your dream with an electric guitar. These guitars place no restrictions on the type of music you can play. Electric guitars have the features to make your dream come true, whether you like rock or heavy metal. Electric guitars are also simple to learn.
These guitars have a clearer, crisper sound quality and can sound loud and clear with the help of technology and good amps. Even the slightest pluck of the strings causes the amplifier to produce a beautiful sound. An acoustic guitar can also sound crisp and clear, but the thicker, harder strings make it difficult to maintain such a high sound quality. When it comes to learning music on an electric guitar, you have a lot more options. The reason is simple: you can set up an electric guitar for clean tones and play anything.
Check out our picks from the best guitar brands
:
Fender Squier 310005532 Bullet Grease Stratocaster
The Fender electric guitar is renowned for its sturdiness. It has 21 frets and is made of rosewood. These simple mechanics encourage new players to keep playing. As a result, beginner guitarists are encouraged to use this guitar. The body finish is polyurethane to give this guitar a sleek look. Electric guitar price: Rs 11,890.
Juarez JRZ-ST01 6 strings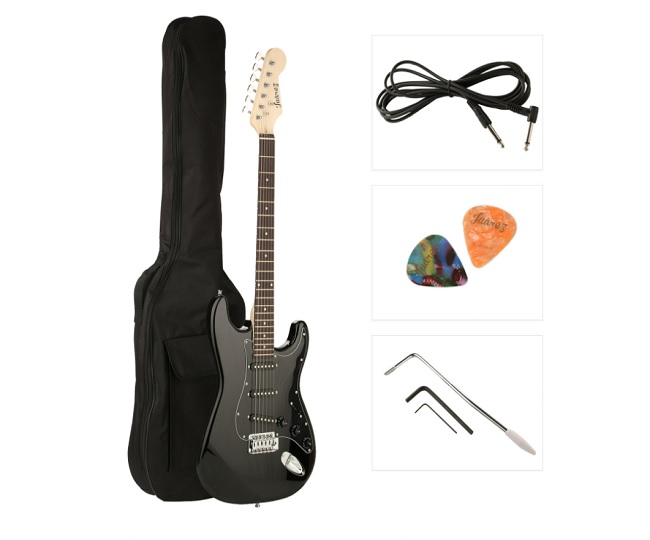 This electric guitar from Juarez is crafted with great looks combined with innovative design to produce high quality sound. This guitar has 18 frets. The fingerboard is made of basswood and the ebony fingerboard provides durability. It comes with a complete kit including a Juarez guitar, bag, speed tuner, picks and guitar cable. Juarez Electric Guitar Price: Rs 4,939.
Epiphone Les Paul SL 6 String
This sleek and bright electric guitar from Epiphone is thin and light. The bolt-on mahogany neck has a traditional 24.75-inch scale and an easy-playing SlimTaper-D profile. It comes with 20 frets and a 12 inch radius. This guitar is made from poplar wood and comes in different color options. Epiphone Electric Guitar Price: Rs 12,999.
Kadence Astroman Electric Guitar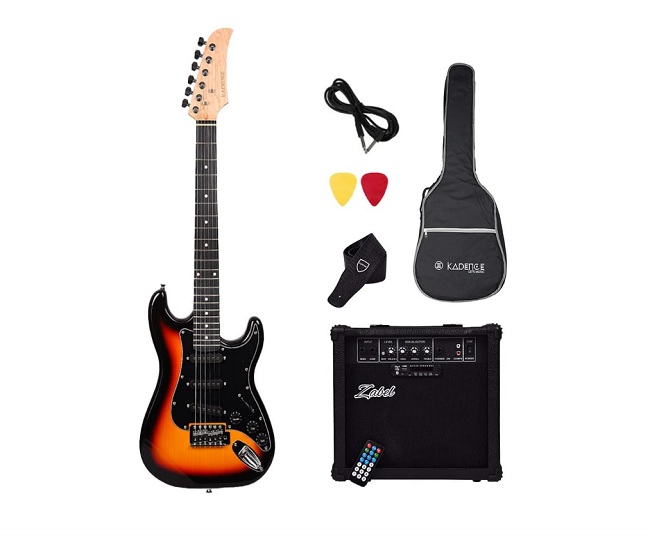 The Kadence electric guitar comes with 21 frets and is the best guitar for beginners. It comes with a full set of bag, guitar strap, guitar cable and guitar picks with amplifier. This guitar gives you tonal options, whatever your preferred style, you'll receive a beginners setup feature that works for you. As a beginner, you can experiment with these sound options to hone your guitar skills. Kadence Electric Guitar Price: Rs 9,499.
RockJam RJEG02-SK-BB Electric Guitar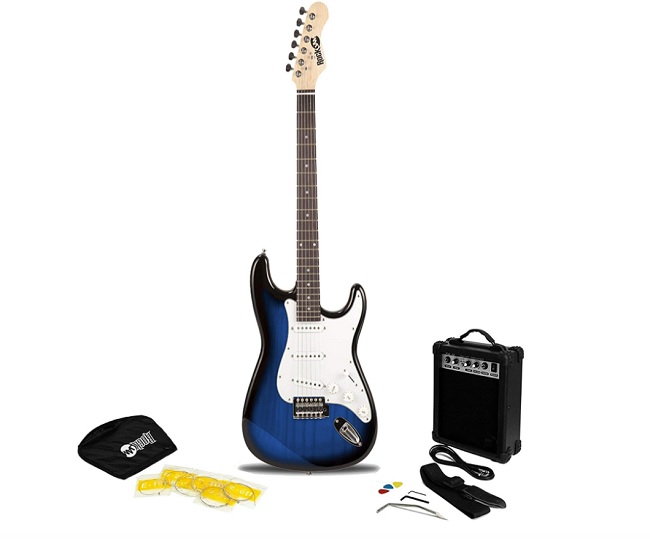 This RockJam electric guitar comes with a complete kit that includes guitar, guitar strap, electric guitar cable, whammy bar, picks, spare guitar strings and guitar amp. It comes with 3 single coil pickups for a truly versatile playing experience. This guitar allows you to create clean sounds. This means you can fulfill your dream of playing classical music with electric guitars. The electric guitar can handle everything from metal to hard rock. RockJam Electric Guitar Price: Rs 8,630.
Electric Guitars: FAQs
Is the electric guitar difficult for beginners?
Electric guitars are generally the easiest to play because the strings are thinner, the action is lower, and the strings are therefore easier to press down. The necks are usually narrower which can be beneficial in the early stages.
How many types of guitars are there?
There are 4 types of guitars: solid body guitars, hollow body guitars, semi-hollow body guitars and electro-acoustic guitars.
Is it possible to play electric guitar without an amp?
There are four ways to play electric guitar without using an amplifier. You can use any headphones or speaker to play your guitar with a PC or Mac, iPhone or iPad, micro-amp or multi-effects pedal.
Disclaimer: Jagran journalists were not involved in the production of this article. The prices mentioned here are subject to change from Amazon.